Why Choose Us
Our Technology
Cutting Edge Technology
We are proud to offer the latest in modern dental innovations to give you the most satisfying results and less time in the dental chair.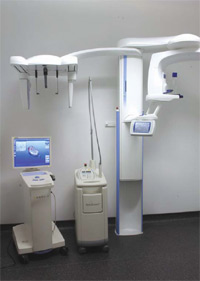 3D Dental CT Scanner
This advanced technology generates a 3D scan of your upper or lower jaw, providing us with valuable information to plan for dental implants, wisdom teeth removal, root canal therapy, orthodontics and gum disease.

A routine x-ray is two-dimensional and only shows the location of your teeth and the height of the bone. Our scanner shows three- dimensional and cross-sectional views of your jaws. The images it creates allow us to select the best location for implants and plan any surgery with pinpoint accuracy. It also allows us to look for signs of inflammation, disease or cancer, as well as simplifying complex root canal procedures.


Cerec 3D
Using this system we can restore teeth with natural coloured fillings, crowns and veneers in just one visit. The need for impressions and temporary crowns or veneers is eliminated.


Versawave Laser
This indispensable technology is ideal for patients who dislike needles and drills. It allows us to carry out pain- free and anaesthetic-free treatment of gum infections, drill-free fillings and gum contouring without the use of scalpels.


T-Scan / JVA
The T-Scan system ensures your bite is correct before and after any extensive restorative treatment. JVA (joint vibration analysis) helps assess pains, clicks and damage to jaw joints.


The Shade Light
This takes the guesswork out of colour matching to ensure restorations are as lifelike as your natural teeth.


The Wand
The Wand is a painless, computer-controlled injection. An ultra fine needle is used and because the flow rate of the anaesthetic is controlled by a computer, the injection is guaranteed to be slow and steady and therefore comfortable.
We understand that at certain times during the day parking can be a problem on the Square. For your convenience, There is ample parking facilities on St Pauls Square as well as an NCP Car park adjacent to the dental practice.